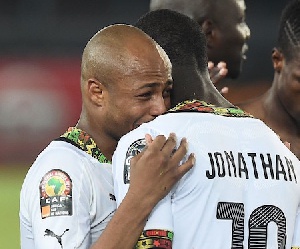 Goal profiles the five occasions that Ghana have had their hopes at recent editions of the Nations Cup killed and the protagonists who made it happen
Goalkeeper Boubacar 'Copa' Barry saved and then scored respectively the two kicks which climaxed the 2015 Africa Cup of Nations final, helping Cote d'Ivoire to a first continental crown in 23 years.

In doing so, though, Barry became the latest in a long line of players who have practically single-handedly crushed Ghanaian dreams in Afcon history. Below are some of the more recent examples:

Siyabonga Nomvethe (Afcon 2000, Quarter-finals; South Africa 1-0 Ghana)

Ghana, when it co-hosted the 2000 Africa Cup of Nations with Nigeria, prayed to make its preparedness count. And, until the Black Stars faced off with South Africa in Kumasi, it was all going quite well; Bafana Bafana forward Siyabonga Nomvethe's effort just before recess sapped Ghana's expectations and truncated their participation at the tournament's quarter-final stage. It's been fifteen years already, but few are the Ghanaians who have forgotten that episode.

Garba Lawal (Afcon 2002, Quarter-finals; Nigeria 1-0 Ghana)

Two years later, Ghana showed up at the Nations Cup, hoping to make an impact in Mali. They didn't, again going no farther than the last-eight stage, courtesy Garba Lawal's late stunner on a day Ghana goalkeeper Sammy Adjei truly earned his 'Bamako' nickname. That it had to be at the hands of fierce foes Nigeria made it especially tough for coach Fred Osam Duodu's team to take.
Stephane Mbia (Afcon 2008, Semi-finals; Cameroon 1-0 Ghana)

When Ghana got to welcome the continent again, in 2008 and this time on their own, the country's hopes of claiming that elusive fifth Nations Cup title were higher than they'd ever been. Ghana FA President Kwesi Nyantakyi inspired a host-and-win mantra, yet Cameroon - and Stephane Mbia, their current skipper - apparently had little regard for that script. Mbia's winner in the semi-final ensured Ghana again had cause to grind their teeth.

Nagy Gedo (Afcon 2010, Finals; Egypt 1-0 Ghana)

Prior to Sunday's heartbreak against neighbours Cote d'Ivoire, Ghana had only once made the Afcon final since the turn of the century, and the memories were just as bad. A side nearly as lightweight as that which represented the West Africans at Equatorial Guinea 2015 upset the odds to go all the way, only to be undone by Egyptian super-sub Nagy Gedo, who crept up from the bench to score the last of the five goals which won him the topscorer's prize and a seventh Afcon crown for the Pharaohs.

Emmanuel Mayuka (Afcon 2012, Semi-finals; Zambia 1-0 Ghana)

Mayuka, only 17 when Ghana hosted the 2008 Nations Cup (no one was younger at that competition), sent Ghana reeling, away from the 2012 edition's final and into an eventually lost third-place match, with a solitary strike which sealed a 1-0 victory for Herve Renard's Zambia. The Chipolopolo would go on to beat Cote d'Ivoire - the very side Renard guided to conquest this year - in the Libreville championship decider.