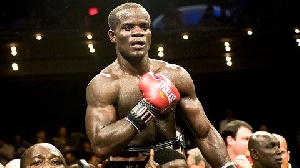 Former Ghana IBF welterweight champion, Joshua Clottey, has disclosed that he never feels ashamed for dropping out of school to become a boxer.
The boxer popularly known as The Hitter who was an intelligent student had to quit school to focus on his boxing career growing up as an armature boxer.

He explained that despite being a good student, the harsh reality of poverty compelled him to focus choose boxing at an early age.

Speaking in an interview monitored by GhanaWeb Sports, Clottey said, "I was a brilliant student in school. I used to be among the first and second in my class. I was able to finish JHS and I understand when people speak English and I can respond.

"Even if you finish your Master's you still have to learn in life, so we have life knowledge and education knowledge and I have that," he said.

He asserted that although he was unable to climb up the educational ladder, his accomplishment as a world champion has placed him on the same pedestal as people who have a Master's Degree.
"I wanted to make it because I dropped out of school so me being a boxer I have to make sure that I become a world champion," he said in the interview with JoyNews.

"Dropping out of school to become a world champion is more or less like having a Master's in education. So I never feel ashamed of dropping out of school," Clottey stated.

With over 20 years' experience in boxing, Clottey has been able to invest the wealth he earned during his prime in real estate as he owns houses at East Legon.

JNA/FNOQ