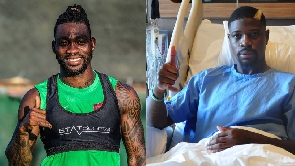 Kevin Olivier Soni, a Cameroonian international and team mate of Christian Atsu at Hatayspor has shared his final interaction with the former Black Stars player before the earthquake of Monday, February 6 struck.
The Indomitable Lions midfielder, shared terrifying details of how he escaped the incident in Hatay, the club's home city and one of the most hit by the natural disaster.

In a wide-ranging interview with French news outlet, Foot Mercato, Soni opened up about the before, during and aftermath of the incident including responding to questions about Atsu.

Below is a transcript of what he said about Atsu

Foot Mercato: Several members of the club have not had your luck and are still missing, like Christian Atsu.
Kevin Soni: I get goosebumps talking to you. Before that happened, I was talking with Christian Atsu on the phone. He had scored a free kick on Sunday and I told him that he had played well and that I had liked his match.

I told him that I hoped to find the grounds quickly so that we could play together. But I didn't know that was the last time I spoke with him. Two hours later, I had no more news. I was told that my friend might be dead, it's enough to drive you crazy.

I am certainly the last person to have spoken with him on the phone. I'm not proud to say that, I really hope we find him safe and sound. It is my wish. I pray for this everyday.

Foot Mercato: Some media have however said that he had been found. Have you had any news?
Kevin Soni: Those are lies. Tuesday evening, we flew back to Istanbul and he was not with us. If he had been found, why wasn't he on the plane? These are lies.

They may have said that to maintain hope and not to frighten his family. What I can tell you is that he did not fly with us to Istanbul. I hope we will find him.

Atsu, Hatayspor official still missing

Christian Atsu and Hatayspor's Sporting Director, Taner Savut are among the occupants of the facility who are believed to still be under the rubble.
Reports emerged that Atsu had been rescued alive and sent to the hospital after 26 hours (February 7) but that account was later dismissed as a case of mistaken identity.

Atsu, according to the Ghana ambassador in Turkey is the only Ghanaian who is yet to be accounted for.

About the February 6 earthquake

A powerful earthquake struck Türkiye's southern provinces and neighbouring Syria, leaving thousands dead within Turkish borders and killing many others in war-torn Syria.
A major earthquake of magnitude 7.7 struck southern Türkiye and northwestern Syria as buildings collapsed and triggering a search for survivors trapped in the rubble.

As at February 9, 2023; death toll has risen to 17,674 and the number of injured hit 72,879 in the wake of Monday's powerful earthquakes in southern Türkiye, Vice President Fuat Oktay said.

The disaster, described by President Recep Tayyip Erdogan as "Disaster of the Century," also killed at least 3,377 people in neighbouring Syria, regime and opposition authorities reported, taking the combined toll to 21,051.

SARA