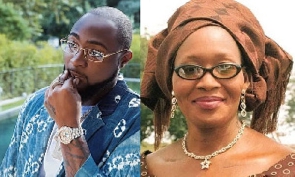 Controversial investigative journalist, Kemi Olunloyo has reiterated that singer, David Adeleke popularly known as Davido is experiencing a generational curse.
In 2021, Kemi warned the singer to stay away from water during the Easter celebration after breaking his promise to his fiancée, Chioma.

Her warning was a result of a lyric in his "Assurance" song which states that should he ever leave her, water should carry him far away.

However, a year and some months later, Davido's son died of drowning in his swimming pool while he and Chioma were away on a trip.

Reiterating her warning to the singer, Kemi took to her Twitter page again and said that it is a generational curse that is moving around his family.

In another tweet, she noted that after her visit to the beach to worship Yemoja, the goddess of water asked her to tell Davido to remove "ASSURANCE" from all streaming and purchase platforms.
"Got back from the beach

To worship Yemoja

The Goddess of water also sent me to Davido. Start breaking #TheAdelekecurse

SHE SAID REMOVE "ASSURANCE" from all streaming and purchase platforms. That song has to go‼️Generational curses manifest to the next generation."

The investigative journalist wrote days after the death of Davido and Chioma's son, Ifeanyi.
Her warnings for Davido to stay away from water seem to have occurred to his son following the fact that his cause of death was by drowning. One could wonder about the coincidence.

Also, it was revealed that a pastor had earlier prophesied the death of Ifeanyi, which was ignored.

Read her tweet:


Got back from the beach ????

To worship Yemoja ????????‍♂️????????‍♀️

The Goddess of water also sent me to Davido. Start breaking #TheAdelekecurse

SHE SAID REMOVE "ASSURANCE" from all streaming and purchase platforms. That song has to go‼️Generational curses manifest to the next generation. pic.twitter.com/k8d46YApfd

— Kemi Olunloyo Pharm.D♠️ (@KemiOlunloyo) November 6, 2022
I warned Davido 2021. That's why it's called a generational curse. It moves thru generations. #AdelekeCurse https://t.co/Fir3cRV7Js

— Kemi Olunloyo Pharm.D♠️ (@KemiOlunloyo) November 5, 2022