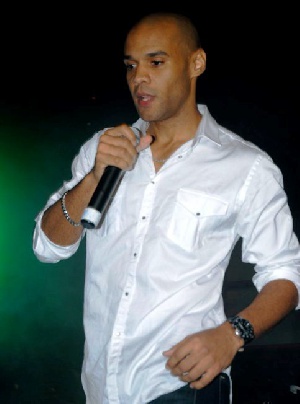 Wed, 25 Sep 2013 Source: david mawuli
Jay Ghartey and Afya last weekendrepresented Ghana at the 7th Annual African Day Parade And Festivalheld in Harlem-New York. The show which saw thousands of Ghanaians and otherAfricans based in the New York City gathered in peace parade and street jam.

The show hosted by Nadia Buari featuredtwo of Ghanaian finest vocalists, Jay Ghartey and Efya who shook the MarcusGarvey Park on last Sunday thrilling the crow gathered. Jay Ghartey representedGhana strongly at 7th annual New York City African day parade.


Even though, there was a wrangle in thecrowed before Jay Ghartey surprisingly popped onto the stage and performed his GhanaMusic Awards' nominated Afro pop song of the year 2012 and international hit,Papa. Immediately after getting the crowd going with his dance moves, helaunched his latest hardcore single titled "African Money" which features ELand AJ Omo Alajah

African Money is said to have beenloaded with 6 different languages including Yoruba, Twi, Ga and Hausa. JayGhartey really did justice to his newly released song on the stage. He calmedthe crowed down and drew them into a total stand still.


Efyaon the other hand produced an excellent performance with her sexy vocals. Otherinternational acts were present at the show to also showcase their masterpiece.The festival was sponsored by Black Speech Media and a host of other partners. Overall, the festival was a perfect one.

Source: david mawuli