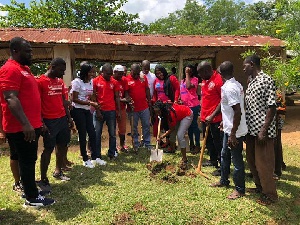 Tue, 30 Oct 2018 Source: Arsenal Fans Ghana
Arsenal Supporters, Ghana and Sugardem Ministries on Saturday, 27th October,2018 cut sod for a 3-Classroom Unit Block at Nyame Nti near Akroso on the Oda road in the Eastern Region.
The project which would be funded by the Arsenal Supporters, Ghana and Sugardem Ministries is expected to be completed within 12 months to complement an already-existing one classroom block.

The new block when completed will have 25 dual desks in each class and a four seater toilet facility for the school.

Mr. Samuel Nyarko, Head Master of the school who expressed his joy for the project also appealed to the two groups for the JHS level to also be considered since they don't have a classroom block to admit JHS students at all.

According to the two groups, the current classroom block being used served as an encumbrance to the pupils, because it looks demeaning and scares the pupils due to its condition.
Mr. Asante, Chairman of the Arsenal Supporters, Ghana planning Committee said , so far ,bad road network across the district, lack of police post at most of the communities among others have been identified all over the district which efforts would be made to resolve.

Nana Ama Asantewaa Kwarko, founder of Sugardem Ministries appealed to the community to support and collaborate with the contractor for the project to be completed within the stipulated period.

Arsenal Supporters, Ghana and Sugardemministries assured the chiefs and people of Nyame Nti of the two group's willpower to help bring the needed development to them.

The occasion brought together the chief of the community, Nana Ansah, the Assembly members, Teachers, Pupils and the General Public.
Source: Arsenal Fans Ghana