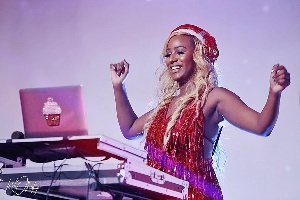 DJ Cuppy gave a cool answer to a fan who tried to disrespect her by asking her to quit music and concentrate on something else because it's not her 'chosen field.'
Rather than go in hard on this troll who made a huge grammatical mistake by writing 'carrier' instead of 'career', the billionaire's daughter reminded him that the appropriate word to use is 'career' and not the other way round.

DJ Cuppy, born Florence Ifeoluwa Otedola, is a Nigerian disc jockey and producer.

She is the daughter of Nigerian businessman Femi Otedola.
She grew up in Lagos and moved to London at the age of 13.

See a screenshot of what she wrote below.