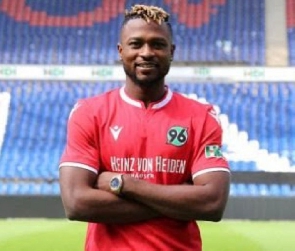 Ghanaian striker Patrick Twumasi is not in the plans of Hannover head coach Jan Zimmermann this season.
Twumasi doesn't train with his teammates, according to reports in Germany.

The former Black Stars forward trains separately and has not made a single appearance since the season commenced last month.

There were reports that he would leave the club to put an end to his misery although Zimmermann has played down the issue.

"It's about training control," said Zimmermann, explaining the allocation of the tasks.
"He is a completely normal member like everyone else, was just not part of this training exercise like some others. That shouldn't be overestimated."

But it is also clear that Twumasi is currently not a first choice after 22 appearances (3 goals and 2 assists) in the 2nd Bundesliga last season.

This season the attacker sat on the bench four full distance times. Although Hanover is said to have paid around 750,000 euros a year ago.