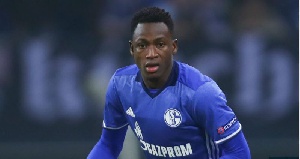 Baba Abdul Rahman is set to leave German side Schalke O4 in the winter transfer window after a difficult second loan spell.
The on-loan Chelsea defender reported to his last training on Monday to say his final goodbyes to the club.

Rahman was on loan at the Royal Blues until the end of 2019 but following his lack of game time, the defender has decided to look elsewhere in search of minutes on the pitch.

The 25-year-old is not returning to Chelsea in January but he is currently in the hunt for a new team, and there are reports linking him to clubs in Turkey.

The Ghanaian defender suffered a career-threatening injury in January 2017 and has since not been able to reach the form that had Chelsea sign the once most sought after left back in Europe.
Schalke O4 Technical Director Christian Hiedel believes the player needs more play time and a move elsewhere could help his career.

"Baba needs games to get into the shape he had before his injury, and if he can get this season, we'll talk to him in peace in the winter," Hiedel said.

Rahman has played only three games this season for Schalke, two in the Bundesliga and one in the UEFA Champions League.