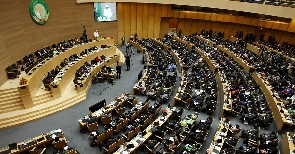 Tue, 18 Jul 2023 Source: GNA
African leaders kicked off the mid-year coordination summit of the African Union here on Sunday, with participants discussing the economic integration, and calling for reforms of the international financial system.
While the world continues to face unprecedented crises from the social and economic impacts of the COVID-19 pandemic, the African continent has suffered most, said Deputy Secretary-General of the United Nations Amina Mohamed.

"Unmet commitments by the international community to financing climate action and inadequate humanitarian responses, have further aggravated the obstacles to the efforts made by Africa and its leaders, to implement Agenda 2063," she said.

According to Mohamed, the UN joined the call by African leaders for the allocation of additional resources to their economies, through the International Monetary Fund (IMF), which has been at the center of criticism by several African leaders.
Kenyan President William Ruto, who joined other leaders in calling for reforms of the World Bank and the IMF, said the African continent is subjected to an unfair global debt system, causing countries to pay at least eight times more than their richer counterparts, on account of their perceived risks.

"We are not asking for charity. We must have equality in the international system," Ruto said.
Source: GNA