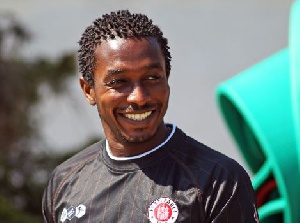 Former Ghana striker Charles Takyi has officially retired from football after such an illustrious football playing career.
The 34 year old last played for KFC Uerdingen 05 in the lower tiers of German football but called it a quit this week following persistent injuries that has hampered his playing career.

The ex-Ghana international will now venture into football management with former side Schalke.

Takyi was born in Accra, but moved with his parents to Berlin when he was five years old. He started playing for Tennis Borussia Berlin and joined the FC Schalke 04 youth-squad when he was 15 years old.
While playing for Germany at youth levels, Takyi expressed his favor to play for his birth country. The Ghana Football Association applied to FIFA for a nationality switch of Takyi in November 2011.

In October 2011, it was reported that Takyi was giving permission to play for Ghana.

He was first called up for the national team in November 2011 for the friendlies against Gabon and Sierra Leone. Takyi made his debut for the Black Stars in the friendly against Gabon on 14 November 2011.