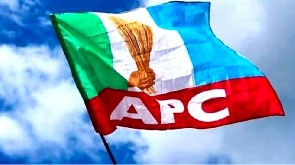 National Chairman of the All Progressives Congress (APC), Abdullahi Adamu, has expressed worry over the mass defection of senators from the ruling party to the Peoples Democratic Party.
Adamu noted that the problem facing the party is expected as they approach an election year.

Speaking to the press after a closed-door meeting with the APC senators on Wednesday, June 22, the national chair said he is committed to facing the problem and finding lasting solutions to them.

According to him, "In every election year, these kinds of subs steps give cause for people, stakeholders to sneeze. Nigeria is not an exception, and the APC is not an exception.

"So, I don't give a damn what is happening in other parties; I care about what is happening in our party.

"You know that it is not just in APC that this thing is happening. Because we are the ruling party, our problems are more prominent in the public glare.
"No responsible leader would not worry about losing one member, not to talk of two, three.

"At the moment, we are faced with the stark reality of their problems, but we are committed with my colleagues in the National Working Committee to face the problems squarely and solve them by the grace of God."

Meanwhile, the Former Minister of Aviation and chieftain of the APC, Femi Fani-Kayode, has said that the 22 senators defecting to the Peoples Democratic Party are unhappy after being denied tickets to return to Senate.

He hinted that a large number of defectors is alarming, and the leadership must prevent it from happening.

"22 APC Senators are threatening to decamp to PDP because they have been denied the tickets to return to the Senate. This is serious & something must be done to prevent it. Many are concerned & we urge our able Nat. Chairman & Nat. Sec. to reach them. We cannot afford to lose them," FFK said.