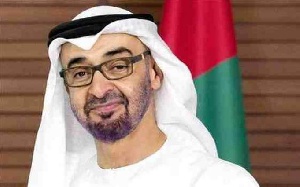 African presidents send condolences to government of UAE
UAE mourns passing of President Sheikh Khalifa bin Zayed

Late president's brother elected new President

Presidents across Africa, over the weekend, extended condolences to the government and people of the United Arab Emirates following the passing of President Sheikh Khalifah bin Zayed Al Nahyan.

In the case of Ghana's Akufo-Addo, he described as: "a great loss for the UAE, an indeed, for the world," in a message posted on Twitter.

The UAE last Friday announced the death of President Sheikh Khalifa Bin Zayed Al Nahyan via state news agency WAM.

He was also ruler of Abu Dhabi emirate.
Vice-president and premier Sheikh Mohammed bin Rashid al-Maktoum, ruler of Dubai, acted as president until the federal council which groups the rulers of the seven emirates met and elected Mohammed Bin Zayed as substantive president over the weekend.

Khalifa, who was born in 1948, came to power in 2004 in the richest emirate Abu Dhabi and became the head of state.

Mohammed bin Zayed has been the de facto ruler of the US-allied UAE, particularly after Khalifa suffered a stroke in 2014, following which he has rarely been seen in public.

Below are some messages from African leaders:


It is a great loss for the people of the UAE, and indeed, for the world. May his soul rest in perfect peace. 2/2

— Nana Akufo-Addo (@NAkufoAddo) May 14, 2022
We extend our sympathies to the Rulers and royal family as well as the government and people of the United Arab Emirates. We mourn with them and share in their loss.

— Cyril Ramaphosa ???????? (@CyrilRamaphosa) May 14, 2022
On behalf of the people of Sierra Leone, I send the leadership and the people of UAE our deepest condolences. The passing of His Highness Sheikh Khalifa bin Zayed Al Nahyan is a great loss to the people of UAE and the world. May he Rest In Peace.

— President Julius Maada Bio (@PresidentBio) May 13, 2022
My deepest condolences to my brother @MohamedBinZayed as well as to the entire leadership and people of the UAE on the passing of President Sheikh Khalifa bin Zayed Al Nahyan. May he rest in eternal peace.

— Abiy Ahmed Ali ???????? (@AbiyAhmedAli) May 13, 2022
I was saddened to learn of the passing of Sheikh Khalifa bin Zayed Al Nahyan, President of the #UAE and Ruler of Abu Dhabi. My heartfelt condolences & prayers go to the Royal family & the Emirati people.

— Moussa Faki Mahamat (@AUC_MoussaFaki) May 13, 2022
… notre solidarité au Président @MohamedBinZayed, à la famille royale et au peuple des Émirats arabes unis.

2/2

— Faure E. Gnassingbe (@FEGnassingbe) May 16, 2022