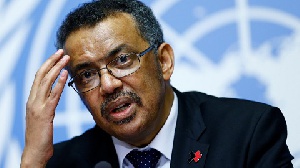 Eritrea and Burundi along with North Korea are the only countries that have yet to roll out COVID-19 vaccination campaigns.
This was revealed by WHO chief, Tedros Adhanom Ghebreyesus, in his October 13, 2021, Coronavirus briefing.

He bemoaned the increasing lack of vaccines which according to him impacted a number of African countries stressing his call for more access to jabs.

"As you know, 56 countries who were effectively excluded from the global vaccine marketplace were not able to reach the target of vaccinating 10% of their populations by the end of September – and most of them in Africa.

"Even more countries are at risk of missing the 40% target by the end of this year.
"Three countries have not started vaccinating yet: Burundi, Eritrea, and DPR Korea," he disclosed.

He restated the damaging impact of constrained vaccine supply on countries appealing yet again to countries with excess and donor bodies to help accelerate vaccination in those countries.

"We ask once again for the countries and companies that control the global supply of vaccines to prioritize supply to COVAX and to AVAT now," he added.

Most African countries have received vaccines under the COVAX platform - an equitable vaccine distribution platform led by a number of United Nations organizations including the WHO and UNICEF.