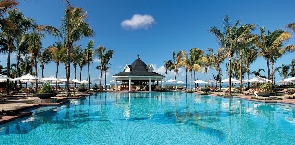 Mauritius ranked most peaceful country in Africa
This is according to the 2021 Global Peace Index report

The country maintains top spot from 2021

The island nation of Mauritius has been ranked the most peaceful country in the sub-Saharan Africa region, maintaining a spot it held in 2021.

This is according to the 2022 edition of the Global Peace Index, GPI, report released this week.

The country's overall score stood at 1.57 with the global score of 28th. Ghana scored 1.759 as compared to 1.715 in 2021, the score also placed Ghana as the 40th most peaceful country on the global ranking of 163 countries.

Completing the top five most peaceful African countries are:
3. The Gambia (45th globally)

4. Botswana (48th) and

5. Sierra Leone (50th)




About Sub Saharan Africa

The report said about the Sub-Saharan Africa, stressing that it, "recorded a slight fall in peacefulness in the 2022 GPI, with the average country score deteriorating by 0.022 points, or one per cent.
Of the 44 countries in the region, 21 improved in score, while 22 deteriorated and one remained unchanged. The region is less peaceful than the global average

on the Safety and Security and Ongoing Conflict domains, but more peaceful than the global average on the Militarisation domain.

Five coups as well as disputes over election results and allegations of corruption led to a rise in civil unrest and political instability across the region, resulting in an average deterioration across the region in the political terror indicator of 6.9 per cent.

The most peaceful country in the region is Mauritius, which is ranked 28th in the 2022 GPI. The country recorded a slight improvement of 1.3 per cent in its GPI score.

The biggest change occurred in the Militarisation domain, most notably in the number of weapons imported into the country, which improved by 18.4 percent. Mauritius also improved in terms of its UN peacekeeping funding by 15.3 per cent.

For the second consecutive year, the country experienced increased violent
demonstrations after citizens continue to protests against the handling of a massive oil spill in August 2020 as well as alleged corruption and fraud within the government.

About the GPI report

This is the 16th edition of the Global Peace Index (GPI), which ranks 163 independent states and territories according to their level of peacefulness.

Produced by the Institute for Economics and Peace (IEP), the GPI is the world's leading measure of global peacefulness. This report presents the most comprehensive data-driven analysis to date on trends in peace, its economic value, and how to develop peaceful societies.

The GPI covers 163 countries comprising 99.7 per cent of the world's population, using 23 qualitative and quantitative indicators from highly respected sources, and measures the state of peace across three domains: the level of Societal Safety and Security; the extent of Ongoing Domestic and International Conflict; and the degree of Militarisation.


Meanwhile, GhanaWeb is accepting nominations for the prestigious GhanaWeb Excellence Awards – Youth Edition. Click here to nominate.

SARA