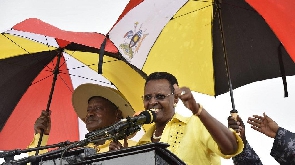 Ugandan First Lady Janet Museveni retained her position as Minister of Education and Sports in her husband's newly constituted cabinet.
President Yoweri Museveni on June 8, 2021 announced his new ministerial list of 30 substantive ministers and 51 deputies.

Janet was one of the women who retained their portfolios. The big news from the list, however, was the appointment of two women to top government positions of Vice-President and Prime Minister.

Museveni named Jessica Alupo, a former Education minister and retired army Major, as Vice President, the country's second woman to occupy the post whiles Robinah Nabbanja was named Prime Minister to lead government business in Parliament.

In Uganda, the vice-president is supposed to be the second in command but the role is largely seen as ceremonial given that Museveni is known to have a strong grip on power.

Who is Janet Museveni?
Full name / age: Janet Kataaha Museveni/ 73 years old

Mandate: First Lady since 29 January 1986

Profession: Teacher by profession, politician by practice

Politics: Has served as an MP,and is currently a cabinet minister in charge of education and sports, post she held in 2016

Advocacy: Founded an NGO dedicated to supporting children orphaned by HIV/AIDS, and also champions causes for the youth, women and children.
Family: Wife to president Yoweri Museveni since August 1973, the couple have four children together.

Janet has consistently supported her husband's political ambitions, and lived in exile from 1971 until 1979, and again from 1981 until Museveni's resistance movement captured power in 1986.

In 2005, Janet expressed her ambition to join active politics and won a parliamentary seat in the 2006 general elections. She was re-elected in 2011, but did not seek re-election in 2016.