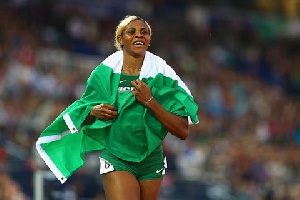 Nigerian track and field athlete, Blessing Okagbare, has run a record breaking time that could have seen her become the world's second fastest woman across 100 meters.
She run a time of 10.62 at the national Olympics trials that took place this week in the commercial capital Lagos.

The time beats 10.63 record run by Jamaican Shelly-Ann Fraser-Pryce on June 5. Fraser's time became the second-fastest in the world.

But the Punch news portal reports that "it was mixed feelings for Okagbare, who saw her 10.63secs winning time declared illegal after a 2.7m/s wind assist."

American legend Florence Griffith-Joyner remains the undisputed fastest woman in history when she run 10.49 seconds in 1988 before retiring less than a year later.

Fans at the National stadium in Lagos were stunned on Thursday, June 17, by Okagbare's feat.

Okagbare celebrated the feat by throwing herself unto the tracks after she saw trhe time she had run whiles some fellow competitors and the crowd cheered and celebrated with her.
The 10.62 time is also a new personal record that makes her the fastest Nigerian and African woman.


Blessing Okagbare 10.63w at Nigerian trials !

2nd woman All-time all conditions :
10.49 0.0 F. Griffith-Joyner ???????? 1988
10.63 1.3 @realshellyannfp ???????? 2021
10.63 2.7 @mountain214 ???????? 2021
10.64 1.2 @CarmelitaJeter ???????? 2009
10.65 1.1 Marion Jones ???????? 1998
10.70 0.3 @FastElaine ???????? 2016 https://t.co/f5o2RDaSzp pic.twitter.com/U0guKA4Aat

— PJ Vazel (@pjvazel) June 17, 2021
In interviews with local news outkets, she said: "Since the start of this season, I see myself as very ready. I feel healthy, stronger and like the real Blessing Okagbare again.
"I am really happy that this time came down today; it will boost my confidence, my faith and trust in God. I just hope this same thing happens at the Olympics.
"I have been working on everything and I hope it counts at the big stage, that's the Olympics. I was very disappointed at my last meet when I ran 11.2, I was like this is not me," she added.