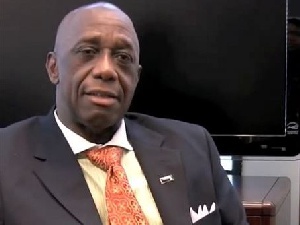 Ghanaian Chemical Engineer and Innovator, Dr. Thomas Mensah, has said his innovations made it possible for people to use technology giants like Facebook, Youtube, Google, among others.
Dr. Mensah also mentioned that without him and his team, people wouldn't have able to make calls across countries.

Dr. Mensah in an interview with otec news said "sending Facebook pictures, YouTube videos, your emails, tweet; everything is going down this [fiber optic] glass and it travels at milliseconds, without my technology, you wouldn't have been here interviewing me."

"You can sit here to upload Youtube videos, someone is viewing and hearing you in the Canada or Australia in few seconds because of fiber optic technology," he added.

Dr. Thomas Mensah was in the country to deliver lectures at the Kwame Nkrumah University of Science and Technology (KNUST) from November 22 to 25, 2017 dubbed '

"RP Baffour Lectures".
Dr. Thomas Mensah is one of the four original Inventors of Fiber Optics in the US with 7 Patents in six years.

Dr. Mensah, while working for American company, Corning Glass Works, was able to help improve and commercialize a fiber optic technology the company had been working on for 15 years without success.

Prior to the invention, copper wires were used as a major channel for data transmission and networking workstations.

He was inducted into The National Academy of Inventors as Fellow (NAI) for his innovations in Fiber Optics as well as his work in Nanotechnology.

Recounting his exploits, he told Otec FM' Kwabena Ampratwum on Thursday November 23, that while working for Corning, he was given a task to improve the fiber optics project which he did tirelessly to birth the technology which he described as the most important invention in the 21st century.
"All I knew was that there were four inventors, three whites and me. And they said, Dr. Mensah, we've come all the way with the glass part, but we think you are the only one who can do the part that will move us to the industrial stage," he said.

"In fact I didn't know that the impact was going to be so great like that, I was surprised but I thought I did a good work because I killed myself for that," he added.

The inventor said, although he did not envision the huge impact the fiber optic project will make in the technology space and the world at large, he said most of his inventions and ideas he espoused in books he's authored have been adopted by multi-million dollar technology giants to expand.

"I have four books on innovation. The first one is fiber optic engineering, it's used all over the world. So those are sold and you get money out of it. My latest book is called Nanotechnology Commercialization."

About Dr. Thomas Mensah
Thomas Mensah was born in Kumasi, Ghana. His father, J.K. Mensah, was a business merchant who shipped cocoa products to chocolate manufacturers in France

Dr. Thomas had his secondary and tertiary education in Ghana, and managed to secure a scholarship to further his education abroad.

Dr. Mensah's works relates to the development of fiber optics and nanotechnology.

He has 14 patents, 7 of which were awarded within a period of six years, and he was inducted into the US National Academy of Inventors in 2015.

He served as Editor-in-Chief of the international textbook Nanotechnology Commercialization published by AIChE and John Wiley & Sons.
The book is aimed at moving Nanotechnology from the laboratory environment to the global marketplace.

He currently has developed a smart watch which he calls "Hug Watch." According to him, Hug Watch can change TV stations by serving as a remote control, also makes and receives calls.

He will also be receiving an Honorary Doctorate, (D.Sc Honoraris Causa) from the university after the lectures.