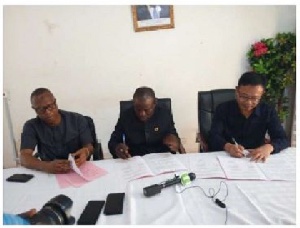 The Northern Regional Coordinating Council (NRCC) has signed a Memorandum of Understanding (MOU) with Jiangxi Academy of Agricultural Sciences(JXAAS), a Chinese institution, to help modernize agricultural production in the Region.
The focus of the MoU, signed in Tamale on Tuesday, is the production of vegetable and fruits, vegetable oils, flower varieties, animal husbandry, training of researchers and technicians in China and the Northern Region among others.

Mr Salifu Saeed, Northern Regional Minister, signed on behalf of the NRCC whiles Mr Yin Jianhua, Director of Rice Research Institute at JXAAS, signed on behalf of JXAAS.

In 2017, a similar MoU was signed between both institutions leading to the introduction of new rice seed varieties, which were tested and cultivated in the northern part of the country through the supervision of the Council for Scientific and Industrial Research - Savanna Agricultural Research Institute (CSIR-SARI).

Mr Saeed said the northern part of the country was endowed with enough arable land, and water bodies to support large scale agricultural production, but the area lacked technology for improved production hence the MoU.

He expressed gratitude to JXAAS for its support for agriculture in the Region, assuring that the NRCC would continue to partner with it to help to improve on agricultural production in the Region.
Mr Jianhua, as part of the MoU, said JXAAS would work to help enhance the income of farmers in the Northern Region through the production of its new rice varieties.

He assured that JXAAS would offer technological and technical support to stakeholders in the Region to increase agricultural production.

Dr Wilson Dogbe, Principal Research Scientist at CSIR-SARI said through the partnership with JXAAS last year, CSIR-SARI had received equipment such as jab-type planter and a thresher to support the production of the new rice varieties.

Dr Dogbe said two out of the five rice seed varieties introduced by JXAAS last year, recorded higher yields compared to others.