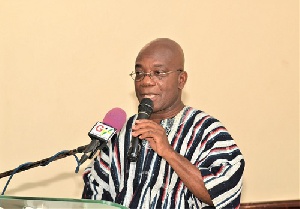 Marketing practitioners in Ghana say they cannot wait to see the last of Ghana's engagements with the International Monetary Fund (IMF), come 2019, when businesses can have enough room to deploy strategies to expand their operations and the economy as well.
National President of the Chartered Institute of Marketing, Ghana (CIMG), Mr Kojo Mattah at the Institute's 29th Presidential Ball Dinner event held in Accra over the weekend lamented the challenges marketing practitioners have had to endure within the period of the IMF austerity programme with Ghana and hoped 2019 would restore brighter prospects.

"It is our belief that as the nation ends its engagements with the IMF, the year 2019 would provide us with enough legroom to be able to deploy programmes and activities that can expand the economy of Ghana; as we do this, I am confident that many opportunities would beckon for marketing practitioners," Mr Mattah said in his address at the Ball and dinner night.

The Presidential dinner night, on the calendar of the CIMG, is the last event of the Institute in a year and also serves as a platform to network and build stronger ties among its members.

The CIMG boss recalled that due to the austere measures implemented via the IMF's Extended Credit Facility (ECF), businesses in Ghana had to contend with limited budgets "for their operations and marketing practitioners have also had to cut back on many strategic initiatives that could have otherwise helped companies to improve productivity for their employers."

Touching on the theme for the event, "Competing in a Dynamic Global Market – The New Challenge for Marketers," Mr Mattah noted that globalisation had ensured that businesses and marketers in Ghana cannot stay in silos.
"Instead of packaging and selling customised products, businesses and marketers are beginning to realise that a more sustainable and winning strategy is the standardisation and mass production of brands service offerings that can be scalable and accepted in many markets with similar needs across all geographies of the world," he said.

The Vice-Chancellor of UPSA was one of the two personalities honoured with the coveted CIMG fellow status on the night- the highest rank in the marketing profession.

Speaking shortly after the conferment, Prof Okoe Amartey called for innovation and new thinking in the marketing profession. This he says was the catalyst to "catching up on modern marketing strategies."

The other honouree, Dr James Asare-Adjei of Asadtek Group Limited, who is also the immediate past president of the Association of Ghana Industries thanked the Institute for the honour bestowed on them.

19 other members were granted full membership status by the CIMG, while 38 additional members attained associate membership. Another nine graduated with Digital Marketing/AITE Programme certificate, and 12 others also recognized for a successful completion of the Diploma in Marketing course.