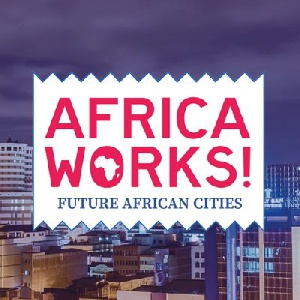 Africa is the continent of the future, and that future is looking increasingly urbanized. By 2050, Lagos is predicted to be the largest city in the world, while just 6 years from now there will be over 100 cities in Africa with more than one million inhabitants.
What does this mean for Europe's nearest neighboring continent? Which challenges does that bring along? How can those challenges be transformed into opportunities? And in what way can the European private sector play a larger role in the construction of cities in Africa?

These are all key questions that will be addressed during Africa Works! 2019, the largest Africa-focused business conference in the Benelux, which takes place on April 8th and 9th in Rotterdam. Business delegations from Africa will fly in to meet the key decision makers from the Dutch private sector.

Participants of Africa Works! 2019 will hear inspiring keynote speeches. Among the speakers are Mr. Samuel Alemayehu, the General Manager of Africa's first waste-to-energy plant in Addis Ababa, Mr. Carlo van Wageningen, one of the founders of Africa's largest wind energy park and representatives of Rendeavour, which constructs large satellite cities across Africa.
We will also hear from inspiring architects, like Mr. Reinier de Graaf (OMA) and South-African Mr. Duzan Doepel (DoepelStrijkers). Mr. Henk Ovink, the Dutch 'water ambassador,' shall advise participating African cities on how to keep dry feet amidst rising sea levels. The CEO of the Dutch Development Bank FMO, Mr. Peter van Mierlo, and the Executive Director of the Africa Finance Corporation, Mr. Sanjeev Gupta will -among others join the finance panel. Africa Works! 2019 shall be officially opened by Rotterdam's Mayor Mr. Ahmed Aboutaleb.

After the plenary session, participants can join insightful workshops, participate in sector-specific round tables and take part in personalised matchmaking, during which European companies can obtain valuable business contacts among the delegations of African companies and governments.

Africa Works! is held for the fourth time and is organized by the Netherlands-African Business Council. This edition is supported by the Dutch Ministry of Foreign Affairs and NLinBusiness.