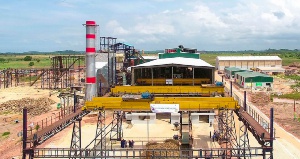 Reports indicate that the Komenda Sugar Factory and the Ghana Airport Company are being considered for sale.
Under what circumstances should state Assets such as Ghana Airport Company and the Komenda Sugar Factory be sold out and to whom? GBC's Radio Ghana sought the views of the Governance Expert Frederick Agyarko Oduro who says this kind of decision by politicians without broad consultation with stakeholders must stop.

He told GBC's George Ankrah that the TUC must not sit unconcerned for state assets to be sold.

Mr. Agyarko Oduro said Ghanaians must not be so gullible to allow the destiny of the country to be destroyed.

He also asked civil society organisations to speak out and show interest in Governance accountability to prevent politicians from taking the country for granted.

He also called on politicians to stop the self-glorification and serve Ghana positively.
A former Director of Export, at the Ministry of Trade and Industry, Gerald Nyarko Mensah says the Komenda Sugar Factory needs some funding to operate.

Mr. Nyarko Mensah called on government to make the Komenda Sugar Factory part of its One District One Factory programme because of the prominence of the factory in the area.

Meanwhile, the Omanhene of Komenda, Nana Kojo Kru says he has no knowledge about any intended sale of the Komenda Sugar factory.

He says his recent knowledge about the factory has been the signing of MOU between government and the chief in the area regarding ten thousand acre land secured for the growing of sugarcane for the factory.

According to GBC's correspondent Kingsley Nana Boadu who has been speaking to the chief and some of the factory workers, the Komenda sugar factory has never been a fully state-owned one but a public-private-partnership arrangement.