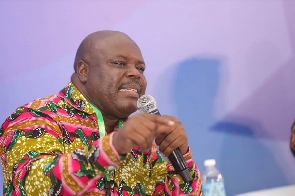 The Minister for Public Enterprises, Mr. Joseph Cudjoe, has asked Chief Executive Officers (CEOs) and staff of Public Entities to invest wisely, in the assets of the entities.
According to the Minister, who doubles as a Member of Parliament (MP) for Effia, in the Sekondi-Takoradi Metropolis, the real owners of the assets of the State entities are Ghanaians.

"This is because, these assets come from our taxes. My mother selling in the market is taken market tolls, just as income taxes are taken from formal workers. Others pay taxes, duties, fines and levies as their contribution to the public purse and government invests in these state assets", the Minister observed.

He explained that, "when you say government, it does not have a face. It is you and I who are investing in these state assets with our taxes and my message to CEOs is that they should invest our assets well for us".

The Minister was speaking on the back of President Nana Addo Dankwa Akufo-Addo, charge to the CEOs over the weekend to perform well or be sacked.

Mr. Cudjoe pointed out that, the President's vision is to tighten oversight so that they (CEOs and staff) invest it wisely, stressing that they (CEOs) should understand this vison and change that narrative which has bedevilled performance of the Public Enterprises over the years.
The Minister thus indicated that employees should be sensitive to the investment in the state assets and make sure that they are managed well.

"If you are set up to operate efficiently, deliver the efficiency for us, profitably, deliver the profits for us, so that our investment will make sense to all of us."

"That is my message to all of them and that is a mindset change I require of everybody working in the public enterprises space", he added.

Watch the latest edition of BizTech and Biz Headlines below:






MA