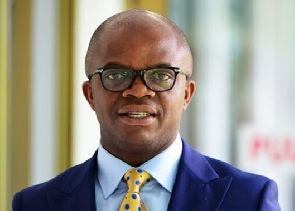 Deputy Trade Minister, Dr Stephen Amoah, has kicked against calls for the resignation of Central Bank Governor, Dr Ernest Addison, and his deputies.
The Minority in Parliament at a press conference on August 8, 2023, accused the Bank of Ghana Governor over his role in superintending over the impairment losses recorded in 2022 as captured in the Banks' audit financial report.

However, Stephen Amoah, who was speaking to journalists in Accra over the development, described the calls made by the Minority as unjustified due to many central banks across the globe having recorded similar impairment losses due to the current economic conditions.

"Check all of the world, whether this practice is not done all over the world. Bank of Ghana has come out clearly to indicate the reasons, sources, and causes of all these exposures. Namely, marketable instruments, non-marketable instruments and that of COCOBOD loans," Dr Stephen Amoah argued.

He, however, urged for restraint in order to allow for the BoG Governor and his deputies to conduct their work within the Central Banks' mandate.

Meanwhile, the Bank of Ghana has insisted that the impairment losses recorded in 2022 was largely due to government's Domestic Debt Exchange Programme, COCOBOD loans and depreciation of the cedi.
The BoG further explained that it took about 50 percent of the haircuts associated with government's debt swap programme within the period.

MA/NOQ

Watch the latest edition of BizTech and Biz Headlines below: