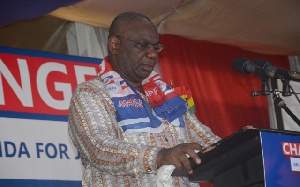 Change is a must in this December general elections, Mr Boakye Agyarko, Policy Advisor to the flag bearer of the main opposition New Patriotic Party (NPP), Nana Akufo-Addo has said.
"Change is coming, yes we can, yes we must", he told a crowd of party big wigs and supporters at the Accra International Trade Fair Centre where the party is launching its 2016 manifesto.

Meanwhile, former President John Agyekum Kufuor, who is presiding over the even said poverty, cannot be fought with poverty, promising that a future NPP administration under Mr Akufo-Addo will create wealth so as to liberate Ghanaians from poverty.

Also, vice-presidential nominee of the party, Dr Mahamudu Bawumia said President John Mahama's tenure, economic growth has continually declined.
"Fundamentally, Ghana's problem is not about resources, our problem is efficient and honest management of our resources," he told the crowd.

According to him, the total debt of Ghana as of independence was GHS9.5billion but has ballooned to GHS110billion under Mr Mahama and the NDC. "90% of Ghana's total debt accumulated in the last seven years has been under the NDC government," he said.