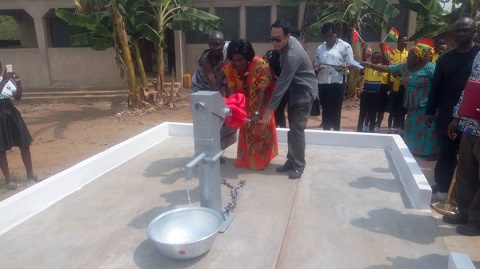 The Chinese Government, through the Economic and Technical Corporation Agreement has handed over 1,029 boreholes it constructed across 10 regions of Ghana to the Ministry of Sanitation and Water Resources.
The project will enhance access to potable water to rural communities towards meeting theHe Sustainable Development Goal (SDG)-Six.

The agreement was signed in December 2015 and commenced in 2016.

The Chinese Ambassador to Ghana, Shi Ting Wang said the wells included hand pump boreholes and submersible pumps, valued at 20 million dollars or 100 million Ghana cedis.

Handing over the project to government of Ghana, the ambassador said the 1,029 boreholes would supply clean and hygienic drinking water to 500,000 remote communities and rural residents.

According to him the Chinese government was willing to provide 60 billion dollars to support Africa through government assistance, financial institutions and corporate investment and financing.
Sanitation and Water Resources minister, Cecilia Abena Dapaah who took over the boreholes, on behalf of government, explained that access to safe water and improved sanitation was key to the socio-economic development of a country.

"It is in this regard that the Government would support any initiative that would enhance access to safe water and improve sanitation services to all Ghanaians."

According to her, Ghana, the Joint Monitoring Platform and UNICEF, and the world as a whole, managed to reduce by half the number of people using unimproved sources of drinking water, adding that 89 per cent of Ghana's population had access to improved water source.

She noted that the report, however, identified inequalities between the rich and the poor and geographical areas as a challenge, which still pertained in many countries, particularly in Sub-Saharan Africa.

Therefore, in the face of addressing population growth, these disparities need to be addressed for Ghana to achieve her target of water and sanitation for all by 2025, she noted.
Another challenge, she said, was the issue of sustainability of water and sanitation services, as well as water quality right from the source to the point of use at the household level.

She called on the communities to contribute to sustaining the water services provided and urged the municipal and district assemblies to educate community members on hygienic ways of transporting, storing and using the water to avoid compromising its quality.

"The Government expects the citizenry, especially domestic consumers, who would benefit from these boreholes project, to contribute their quota by ensuring the protection and sustainability of investment in the water sector," the minister explained.
Send your news stories to and features to . Chat with us via WhatsApp on +233 55 2699 625.
Related Articles: