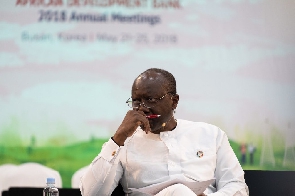 Convener of the Individual Bondholders forum, Senyo Hosi, has reiterated the need for the government to cut expenditures and also find innovative ways to generate more revenue.
He makes the statement on the back of the inclusion of individual bondholders in the Domestic Debt Exchange Programme.

According to him, the government's decision to include individual bondholders in the programme, was a way of impoverishing them and taking away their lifetime investments.

He said "We urge the government to stay focused on its responsibility to protect its citizens and for that matter absolutely exempt individual bondholders, including individuals who hold eligible bonds under the DDE through Collective Investment schemes from its DDE programme. We maintain that cutting government expenditure and optimizing revenue is the sure winner for Ghana in these difficult times."

In a statement on January 24, 2023, Senyo Hosi, commended the government for reaching an agreement with the government.

The government of Ghana and the Ghana Association of Banks announced that an agreement had been reached to make some amendments to the terms of the domestic debt exchange programme.
The amendment includes an agreement to pay a 5% coupon rate for each of the twelve new bonds, resulting in an effective coupon rate of 9%.

It also added "the removal or amendment of all clauses in the Exchange Memorandum that empower the Republic to at its sole discretion, vary the terms of the exchange."

The individual bondholders stated that "with the banks onboarding the Domestic Debt Exchange Programme, the government is set to reach its 80% target."

"The development reaffirms the need for government to exclude individual Bondholders, including individuals and Collective Investment Schemes (CIS), who account for less than 11% of the eligible bonds. Unlike the banks and other institutions who are set to benefit from various regulatory incentives, Individual Bondholders have no fallback nor incentives and will be condemned to shackled penury," parts of the statement read.

SSD/FNOQ