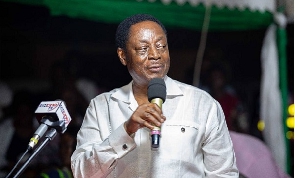 Former Finance Minister, Dr. Kwabena Duffuor, has taken the ruling New Patriotic Party (NPP) to task on current economic crises questioning the whereabouts of their much taunted solid economic management team.
He quizzed "they said they have the men, where are the men?. The economy is in bad shape. Our debt is hovering around Ghc600 billion. When we [NDC] come we will prove to the NPP that we have the skills. We have done it before in 2009 when we took over the economy. We achieved single digit inflation for 31 months. We will do it again. NDC we have the people but we don't talk too much. We will turn the economy around within two years when we come to power," Dr. Kwabena Duffuor said when addressing delegates of the opposition National Democratic Congress from Suhum and Ayensuano constituency.

Ghana is expecting to receive $3 billion dollars over three years from the International Monetary Fund to avert the collapse of the economy.

The country has undertaken a painful debt restructuring program yet struggling to bring down its debt portfolio.

Already, the IMF is projecting that Ghana's Debt to GDP Ratio will increase further to 98.7 per cent by the end of 2023.
The country has defaulted on its debts.

Although, Ghana's annual inflation rate eased for the third month to 45% in March 2023, down from 52.8% in the prior month and after reaching a more than two-decade high of 54.1% in December 2022.

However, according to Dr. Kwabena Duffuor, regardless the state of the economy the NDC has the strategy to turn it around to reduce the current economic hardship on Ghanaians.

"We have done it before during late Atta Mills era we inherited terrible economy but by the grace of God and fact that NDC had competent people, the Economy was turned around .so be patient. Regardless the state in which Akufo Addo will leave the economy,we will turn it around. They have borrowed all over the world .They know how to secure loans but they don't know how to pay. Now they are begging. This is a shame. They are going round begging," Dr. Duffuor assured.