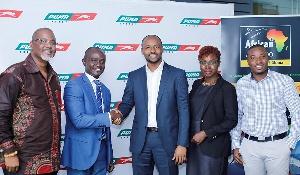 Thu, 10 Aug 2017 Source: Albert Amekudzi
Puma Energy, the global integrated mid and downstream energy company, is the official oil sponsor of the first ever African Air Expo to take place in Ghana from October24-26.
The company, which is also the leading supplier of aviation fuel in Ghana, is a solid supporter of this initiative which seeks to build the aviation sector in the sub-region.

The African Airshow is the first aerospace and aviation exhibition and conference of West Africa and is being organised by Dubai-based 4M Events, organisers of the successful Abu Dhabi Air Expo for the past 3 years.

Designed to connect professionals across all areas of the industry with the African market, it is directly in line with the government's vision of making Ghana the aviation hub of West Africa.

In a press briefing announcing Puma Energy as a sponsor and partner of the Airshow, the Deputy General Manager of Puma Energy in Ghana, Mr. Kwesi Amanor, expressed Puma Energy's commitment to supporting the growth of the aviation industry in Ghana and Africa as a whole.

"Puma Energy is very proud to be supporting the first edition of the African Airshow. As a major supplier of aviation fuel in Ghana's aviation industry, joining as the official oil sponsor of this event is a natural fit for us. We are committed to supporting growth in African aviation which shows so much potential, especially in Ghana," said Mr. Amanor.

On behalf of Ghana Airports Company Limited, the Head of Treasury and Vice Chair of the Local Organising Committee, Mr. Patrick Asamoah shared his excitement about having Puma Energy on board as a partner.
"We are excited to have Puma Energy on board. This is a company that, like us, understands the essence of a robust aviation sector. Our Airshow seeks to reveal the immense potential within Africa's aviation industry, and I am confident that Puma Energy's partnership will help us to demonstrate that," said Mr. Asamoah.

Puma Energy is the official sponsor of the South African air acrobatics team, the Flying Lions, and was the sole fuel provider of the 2016 Crete to Cape Vintage Air Rally, an extraordinary 8000+ mile aviation adventure involving 20 international teams from 17 countries.

Beyond aviation however, Puma Energy provides various fuel, lubricant and bunkering solutions to diverse businesses whenever and wherever they need them and also to our everyday customers at their many filling stations across the African continent. With its integrated supply chain, Puma Energy cuts no corners in providing high quality fuel and lubricants at consistently competitive prices to consumers.

The maiden Aerospace and Aviation Exhibition for Africa brings together major industry players in the aviation sector to discover latest developments and innovations.

The Expo also provides an opportunity for manufacturers and service providers in the sector to explore and meet potential customers.
Source: Albert Amekudzi