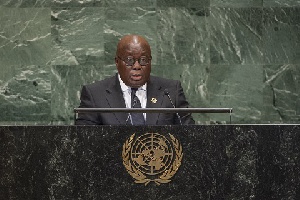 Director at the Centre for Asian Studies, Professor Lloyd Amoah has urged government to tighten it laws as it engages China in its trade activities.
President Nana Akufo-Addo delivering his address to the 73rd UN General Assembly on Wednesday said, "We must address our infrastructural deficit.

The traditional methods of tackling this problem will not provide the answer. We are looking for new ways to resolve it. Ghana, like many countries in Africa, is forging relations with China to make arrangements to help address part of our infrastructure deficit."

Meanwhile, there has been public outcry over government dealings with the Chinese government and its firms. The recent been the controversy surrounding the taking over of Ghana`s Digital Terrestrial Television (DTT) by Chinese firm StarTimes.

However, speaking to Kweku Owusu Adjei on Anopa Kasapa on Kasapa FM Thursday, Dr. Amoah called on government to be more strict on enforcing its laws and demand nothing but the best, in order to maximise Ghana`s opportunity from the relations.
"We must be strict, the Chinese have respect for their laws and so must we also respect ours. If you are dealing with the Chinese, you must make sure your interest is put forth. Sometimes it baffles my mind how the Chinese developed their country in the 1980s.

"If we don't put measures in place in making sure their presence has an influence on our economy, it will take a longer time for us to develop. We must lock them into developing our road and other sectors of the economy" he added.

President Akufo Addo believes China is now a global economic powerhouse, despite its past struggles.