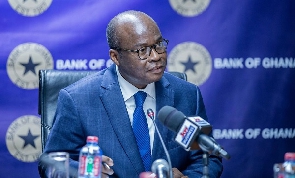 Ghana is currently facing a balance of payment deficit of $3.64 billion as of December 2022.
According to the summary of economic and financial data from the Bank of Ghana, this showed an increment in the deficit from $3.4 billion in the third quarter.

However, Ghana had a capital account surplus of more than $3.3 billion in December 2021 and an overall balance of payments surplus of $510 million at the same time last year.

The increase in the country's balance of payments can be attributed to the massive depreciation of the cedi by over 50% and the increase in inflation to over 54%.

Ghana's interest payments have also skyrocketed as a result of the cedi's woes throughout 2022.

The data also showed that Ghana's total public debt stock was pegged at GH¢575.7 billion at the end of November 2022.
The figure represents about 93.5% of the Gross Domestic Product for the period.

The data from the Central Bank showed that Ghana's public debt stock rose by GH¢108.3 billion between September and November 2021, further depicting an unsustainable debt situation.

The report explained the rise in the debt stock can be attributed to the government's debt restructuring exercise, which has an expiration deadline of January 31, 2023, for participation.

Meanwhile, the government is seeking $3 billion in financial support from the International Monetary Fund to shore up its reserves and increase its balance of payments.

SSD/FNOQ