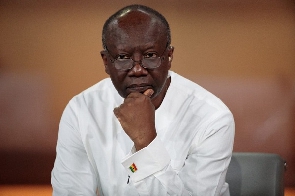 The total public debt stock of Ghana was pegged at GH¢575.7 billion recorded at the end of November 2022.
The figure, according to the Bank of Ghana's January 2023 Summary of Economic and Financial Data, represents about 93.5% of Gross Domestic Product for the period.

The data from Central Bank showed that Ghana's public debt stock rose by GH¢108.3 billion between September and November 2021, further depicting an unsustainable debt situation.

The report explained the rise in the debt stock can be attributed to government's debt restructuring exercise which has an expiration deadline of January 31, 2023 for participation.

The BoG Summary of Economic and Financial Data however pointed out that the external component of the total public debt increased to $29.2 billion (GH¢382.7 billion) in November 2022 which is equivalent to 62.1 percent of GDP.

This was from $28.4 billion (GH¢271.7 billion) in September 2022 and $28.3 billion in December 2021.

The data also showed that the Ghana Cedi depreciated by about 37 percent against the US dollar in 2022 – resulting in a significant rise in the cedi component of the external debt.
Meanwhile, on the domestic debt front, the figure was pegged at GH¢194.7 billion at the end of December 2022 representing about 31.6 percent of GDP.

This figure is also against GH¢195.7 billion which was recorded in September 2022 and GH¢193.1 billion in November 2022.

As part of the government's Domestic Debt Exchange Programme, about GH¢170 billion of debt is being restructured for a period of 12 years.

It is important to note the BoG report did not provide figures pertaining to the financial sector resolution debt and other liabilities including the energy sector debt.

The report futher noted that government's fiscal deficit in terms of Gross Domestic Product was pegged at 9.8 percent in November 2022 which is more than the 7.4 percent earlier recorded in September 2022.

MA