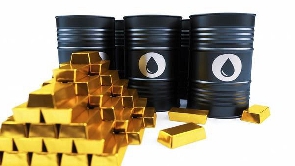 The Chamber of Bullion Traders has stated that the gold for oil policy expected to be rolled out by the government if not handled properly will breed the smuggling of gold.
The Chamber's concerns come on the back of the government announcing that the policy is set to kick start.

Ghana has taken delivery of its first cargo under the gold for oil policy. The delivery is to test the framework if everything that has been put in place will work.

Vice President, Dr. Mahamudu Bawumia has assured Ghanaians that the gold for oil policy will make fuel cheaper in the country.

However speaking to Starr News with Joshua Kodjo Mensah, the Chief Executive Officer of Bullion Traders – Ghana, Daniel Krampah indicated that most of the activities of licensed gold exporters are tied to the export trade.

"So that if the policy is preventing members from sourcing for funds from outside and export then basically they are going to be priced out. Because the policy states that everybody should be held to pay their money," he said.
"I don't have evidence that can support that but the idea was that we were even saying that, why don't you let us sell a portion of what you buy to the PMMC as how the large-scale mines are doing? So that we continue with the export of the remaining 70% of the whole to our principals who actually finance our operations. We have a lot of refining capacity which is very hungry because as of now we don't even have gold that we can feed those refineries in the country," Mr. Krampah narrated.

According to him, they have presented a petition to Vice President Mahamudu Bawumia in which they have stated so many points why the policy will not be helpful.

He also suggested that the government should allow licensed gold exporters to keep a portion of what they buy from small-scale miners to the PMMC in connection to the gold for oil policy.

"We are also saying that if you go along with the policy right now, there will be a lot of gaps in the supply chain. Because as I said PMMC doesn't have structures in all 13 regions. Currently only in Kumasi where they have set up an office and information from Kumasi says there is not even one personnel in the office as of now. They also said they operate from the Diamond House in Accra here so these are some of our concerns. We think that smugglers will take advantage of the system and then cash in and buy the gold that PMMC is not able to buy."