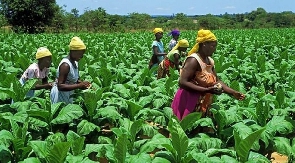 Wed, 15 Sep 2021 Source: GNA
Nana Banyin Acquah, the Tarkwa Municipal Director of Agriculture, has appealed to the government to maintain the subsidies on agriculture inputs to increase farmers' interest in the Planting for Food and Jobs, particularly among the youth.
Aside from wrong land use and 'galamsey' activities in the Municipality, the few youths in agriculture were relinquishing the task to farm due to inadequate finances, he said.

Nana Acquah said this in an interview with the Ghana News Agency during the Western Regional Joint Sector Review Programme in Agriculture to assess performance and make policy recommendations to the government for improvement.

He called for an active policy on land acquisition and usage to make more lands available for farming purposes.

He said the subsidy on seeds, fertilizer, and feed for poultry and livestock, among other things, had helped alleviate poverty, hence the need to sustain it for maximum benefits.
Nana Aquah said about 2,700 youth had been trained in best practices under the Modernising Agriculture in Ghana Project, adding: "We are happy that some of the youth are still in the practice."

Many farmers had also been linked to suppliers to ensure a ready market for their produce, he said.

"We are fighting to secure and make agriculture attractive, but the land is also becoming a great challenge, and we need to move from smallholder farming...The subsidy must also be maintained a little longer," he said.

Most participants blamed the low crop cultivation on the late supply of fertilizers.
Source: GNA