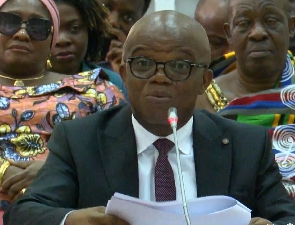 The Deputy Minister-designate for Trade and Industry, Dr. Stephen Amoah, has stated that taking a salary cut will not be a problem for him, if the Minority leader, Cassiel Ato Forson does the same.
Responding to a question posed during his vetting on February 21, 2023, about expenditure cuts, salary cuts, and the size of the government, Stephen Amoah noted that he was ready to take up the charge if need be.

"Mr Chairman, I think I said something here; my knowledgeable Dr Ato Forson and I, the only difference is the height.

"So the way we are brothers if he sees me on the corridor and he says brother, let us cut [our salaries] and he cuts his, I will cut mine", Dr Amoah said.

However, he added he cannot reject an appointment to serve the people of Ghana if the mandate is given to him, even though he believes government must cut expenditures.

The Minority in parliament had raised several concerns over the new appointments made by the President.
According to them, it is inappropriate to have new ministers at a time when it has become undoubtedly necessary for the government to downsize.

Watch the latest edition of BizTech and Biz Headlines below:






Watch the latest edition of Business Moments below:





SSD/FNOQ