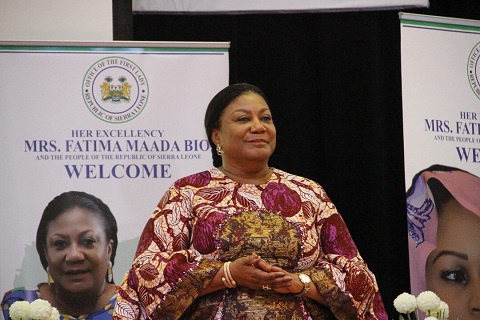 Sun, 16 Dec 2018 Source: Richard Darko
First Lady of the Republic of Ghana, H.E. Mrs. Rebecca Akufo-Addo has challenged her colleague First Ladies on the African Continent to work extra-hard to reduce the incidence of child-marriage, warning that the endemic practice is a destructive tool against the girl-child.
According to her, despite the many social, political and religious platforms created to advocate against the practice, child-marriage, with its attendant problems is still ravaging the lives of families.

Mrs. Akufo-Addo made these observations in Sierra Leone, at the Invitation of the Country's First Lady H.E. Mrs. Fatima Maada Bio, when she joined other African First Ladies to launch the "Hands of Our Girls" Campaign.

The Campaign, a Mrs. Maada Bio initiative, is aimed at pushing to the top of the social agenda, the negative effects of child marriage and how best society, especially the influential class can work to bring a lasting end to the social menace.

Child marriage and teenage pregnancy are human rights violations driven by poverty and traditional practices that prevent girls from acquiring education and puts them at great health risk. Victims of Child marriage suffer all forms of gender based violence and are at an increased risk of acquiring sexually transmitted infections including HIV and AIDS, cervical cancer, and obstetric fistula.

Explaining the need for more efforts to combat child-marriage, Mrs. Akufo-Addo recalled harrowing stories heard from young girls, who had been married off at an early age, some of them struggling to bring up children, some of them sick, others who had lost children and the saddest of all being those who did not live to tell their story.
She said, what was worrying was that, the 2nd African Union Girls Summit on Ending Child Marriage, chronicled same challenges discussed during the first summit, obviously indicating that, after the talk, real work has not started.

She expressed her elation at Mrs. Maada Bio for taking the bold initiative to improve the lives of women and children of Sierra Leone, saying, "it is encouraging to know that soon after the 2nd African Union Girls Summit on Ending Child Marriage, the First Lady of Sierra Leone already has her foot on the pedal".

Mrs. Akufo-Addo called for the need for more hard work to put to an end, what she described as a pandemic evil phenomenon in Africa. "We must educate communities, raise awareness, engage traditional and religious leaders, involve parents and the media and empower girls through education and income generating activities. We must provide confidential access to sexual health services for our young girls. Again, any discourse or intervention must include men for greater impact", she said.

She expressed optimism that if all First Ladies gathered, would put their shoulders to the wheel and work beyond the summit talks to realise decisions taken, then a different story would be told at the next 3rd AU Girls Summit on Ending Child Marriage, on how this inhumane practice has been reduced to its barest minimum, if not eradicated.
Source: Richard Darko
Send your news stories to and features to . Chat with us via WhatsApp on +233 55 2699 625.