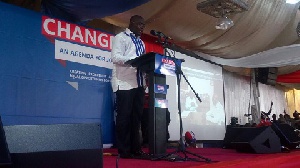 International rating agency Moody's has not upgraded Ghana's sovereign credit rating contrary to assertions by the Mahama administration to that effect, the vice-presidential nominee of the main opposition New Patriotic Party (NPP), Dr Mahamudu Bawumia, has said.
Speaking at the launch of the NPP's 2016 manifesto at the International Trade Fair Centre in Accra on Sunday, 9 October, Dr Bawumia said Ghana's sovereign credit rating got downgraded to (B-) under President Mahama despite having oil revenue at its disposal, from (B ) positive (without oil under the NPP).

Moody's Investors Service recently affirmed the Government of Ghana's issuer and senior unsecured rating at B3 and changed the outlook to stable from negative.

Dr Bawumia, however, noted that nothing had changed except the revised outlook. He said, in fact, international rating agencies like Moody's, Fitch and Standard & Poor's now have basically the same credit rating for Ghana.

"The recent revision of Ghana's outlook from B- negative to B- stable; that is the equivalent of B3" with the revision of the outlook from negative to stable, "has resulted in a misinterpretation by this NDC government and President Mahama that Ghana's credit rating has been upgraded."

"This is in fact not the case. Moody's did not upgrade Ghana. Ghana's rating under Moody's is still B-. It is only the outlook that has been revised and that is not equivalent to a change in rating or a rating upgrade.
"Sometimes one wonders whether they don't read or they don't understand. So, let me give Mr President a free piece of advice: 'Mr President, please desist from embarrassing yourself by stating that Moody's has upgraded Ghana.' Your economic management team should explain that difference to you.

"The Mo Ibrahim 2016 report on governance shows that on virtually all key development indicators such as safety, rule of law, human rights, economic opportunities, infrastructure, business environment, human development, health and public management, Ghana is worse off today than it was 10 years ago," Dr Bawumia said.

His comments were in response to Mr Mahama's recent assertion that the recent upgrade of Ghana's economic outlook from "negative" to "stable" by Moody's is proof that "we're doing something right".

Upon his return to Accra Wednesday night after his trip to France, Mr Mahama told journalists at the Kotoka International Airport that: "In my absence we were pleased to hear that Moody's credit rating agency has upgraded Ghana. It shows that we are doing something right and we are pleased about the way things are happening. Let us continue to work together as one nation, let's believe in ourselves, and I believe that more than the sky is the limit.

"Our country is respected in the international community, and everybody recognises that. Ghana is rising, Ghana is doing well."