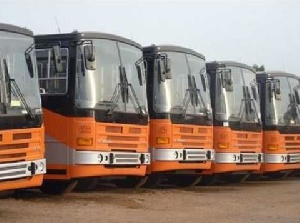 Metro Mass Transit, the public transportation company, expects to receive 300 buses by the end of the year to augment its current fleet, Managing Director Albert Adu Boahen has said.
To operate at an optimal level and improve profitability, however, the company needs to increase its current fleet of 200 buses to over 900 buses, he explained.

Speaking at a press conference in Accra to respond to a media report that 200 buses belonging to the transport company have been grounded, Mr. Adu Boahen said the report lacks merit.

According to him, the buses referred to in the report are earmarked for scrapping and have been parked at the company's yard since 2014.

"Metro Mass as a limited liability company has a policy guiding scrapping of buses. Buses earmarked to be scrapped are taken through technical examinations to determine whether such buses are viable for operations or not. When that is done, STC will then come in to do valuation to determine the prices for such buses before they are auctioned," he said.

He explained that 85 percent of the company's current fleet is overaged and that buses that were acquired by the previous management did not function as expected.
"Some of these buses, after being taken from the port, could not work for just a day. These buses were the first version in Africa and didn't even come with spare parts. As a matter of fact, it was under President Akufo-Addo's administration that the company has received assistance, including some intercity air-conditioned coaches in 2017 and 2018, which gave back life to the company."

On the issue of drivers not working but getting paid, Mr. Adu Boahen denied the allegation.

"We are working with over 3,000 direct employees, and in these COVID times when giant companies, especially those in the transport and hospitality industries, are laying off employees because of the adverse effects on their finances, Metro Mass has not laid off a single employee—and we have been able to pay these staff every month. We don't depend on the government for salaries."