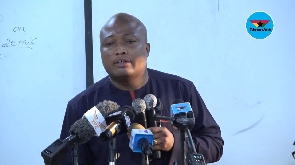 Member of Parliament for North Tongu Constituency, Samuel Okudzeto Ablakwa has said the opposition NDC was charitable by scoring the ruling NPP government 'F' in its performance evaluation.
According to him, the actual score in the analysis of the fulfilled campaign promises of the ruling NPP Government stands at 13.6% but the opposition party decided to round the figure up to 14%.

"We observed that only 86 promises have been delivered out of the 631 and if you do the arithmetic and divide the 86 by the 631, what you will get is 13.6% and so we have been generous to gift them 14%; we added 0.4% to it by rounding the figure up," he indicated.

Speaking on Okay FM's Ade Akye Abia Morning Show, the former Deputy Minister of Education in charge of Tertiary insisted that the NPP made 631 promises to Ghanaians and not 388 as earlier bandied about by the Vice-President, Dr Mahamadu Bawumia.

He dared the ruling the NPP Government to come up with contrary view regarding this assertion.

"We have supported our claim of the 631 promises made by the Akufo-Addo government to Ghanaians with page numbers from their manifesto where people can easily access them and do their own analysis. We expect the NPP to tell us that we lied about any of the promises we have highlighted in our press conference from their manifesto," he dared.
The Vice-President, in February this year, claimed the government had posted incredible results against the backdrop of the "mess" it inherited from the erstwhile NDC administration on January 7, 2017.

According to him, the current administration had delivered on 78 per cent of the 388 promises it made during the 2016 electioneering.

He was speaking on the first day of a two-day Town Hall Meeting and Results Fair in Kumasi under the theme: "Demonstrating fulfilment of our promises".

The South Tongu NDC MP stressed that the opposition party painstakingly analyzed the figures put out by government as no organization had done so.

He accused the ruling party of deliberately omitting several of their campaign promises in their manifesto in order to shoot-up their delivery and create the impression that they have delivered.
"So we sat down with a fine comb to comb through the entire manifesto and we have put out the number of promises as many as 235 promises which the Vice President did not mention; you left them out with the assumption that Ghanaians will forget but we will remind Ghanaians about them..."

"The message that we sent clearly with the press conference is that the 2020 general election campaign will be a campaign of ideas and issues and not a campaign of insults and fabricated issues against opponents", he mentioned.