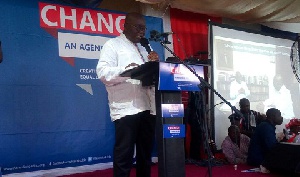 Sun, 9 Oct 2016 Source: GhanaWeb
Many sympathizers of New Patriotic Party could not hold back their joy on Twitter as the opposition party launched its long awaited manifesto at Trade Fair, Accra today.
The event which started in the afternoon was greeted by rainfall, but this didn't deter the loyalists of the party, as party faithful were reportedly seen at the venue, jubilating as it drizzles.

Party members who took to Twitter expressed their joy about the "change" promised - also took their time to give thumbs up to the speech of the party's flag bearer, Nana Dankwa Akufo-Addo.

Some of the Twitter users expressed their fulfillment on what they described as "massive crowd" at the event - which they claim speaks of how the "change" message of Akufo-Addo has been well accepted among Ghanaians.


They have more money than us but the battle is the lord's - @NAkufoAddo #Eibelectionhub #NPPManifesto

— RTPKafuiTo1446 (@KafuiDey) October 9, 2016
We of @NPP_GH have always taken our manifesto seriously because politics is serious business. - @NAkufoAddo #GhanaDecides #NPPManifesto

— Ghana Decides (@GhanaDecides) October 9, 2016
Job creation will give hope to the youth of Ghana #NPPManifesto

— Amma Prempeh (@ammaampong) October 8, 2016
#nppmanifesto the manifesto that will bring hope to the poor and needy

— Annie Akomeah (@annie_akomeah) October 8, 2016
#Nppmanifesto is a declaration of our good intentions and motives..We Stand For Good governance

— Miss Debrah (@MissNellyNels) October 8, 2016
NPP wil build Gh from bottomUp. #NPPManifesto lays much emphasis on the 1Constituency$1m.A key solution to development @NPP_GH @NAkufoAddo

— Osabarima Tuffour (@andre_franklins) October 8, 2016
#NppManifesto D only Ghana friendly manifesto. NDC's tasteless unghanaian @NPP_GH @IAmForNana @NAkufoAddo @JDMahama @YOwusua @royaltcafe2012

— Fadi Dabboussi (@dabboussi_fadi) October 8, 2016
Source: GhanaWeb