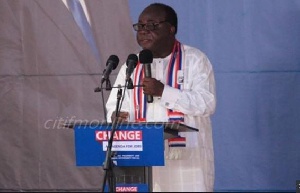 Acting National Chairman of the New Patriotic Party (NPP) Freddie Blay says the party's manifesto provides viable economic alternatives to halt the downwards decline of the Ghanaian economy.
Addressing party supporters on Sunday at the party's manifesto launch in Accra, Mr Blay said the NPP is ready to take tough economic decisions, to ensure stability and sound economic growth.

 

Mr Blay said unlike the NDC who are hoodwinking electorates with vain promises, "for us NPP, who follow the down path of the Dankwa- Busia tradition will respect the people by honouring promises we have made in our manifesto."

 

He indicated that the party's focus is on good governance, sound macro-economic policies among other strategies to build a strong private sector that will attract investors in both local and international community based on the confidence they have in our economy.
He reiterated the NPP's commitment to pragmatism which, he said, was evident during the Kufuor-led administration.

 

Praising the erstwhile Kufuor administration for helping Ghana graduate from the Highly Indebted Poor Country (HIPC), he said, "there is nowhere poverty has been alleviated by impoverishing the citizens of the country". And this is why NPP will remain committed to fostering social protection, social interventions among other things to ensure the wellbeing of all.

"We have done this before and we promise to do it again when Ghanaians give Nana Addo Dankwa Akufo-Addo the opportunity to win 2016 elections," he stressed.