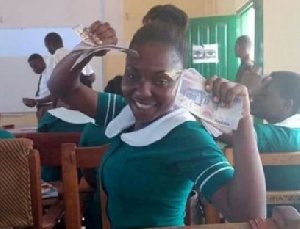 Leaders of the two major trainee associations, [Teacher and Nursing] have both hailed the new government for fulfilling its pledge of restoring their allowances.
The Spokesperson for the Ghana Nurses and Midwives Training Association, Godwin Asabre told host Fiifi Banson on Anopa Kasapa on Kasapa 102.5 FM that "the move is in the right direction and will bring relief to trainee nurses"

He added: "If His Excellency President Akufo-Addo has walked the Talk, then it means that the promises that he's given to Ghanaians he'll actually fulfill them."

The allowances, which were scrapped by the outgoing National Democratic Congress (NDC) government, was met with strong resistance from the teacher trainees, and nursing trainees who complained bitterly about the difficulties it had brought upon them.

The NDC government insisted the continuous payment of the allowances would threaten the future of Ghana's economy.

The former Vice President, Paa Kwesi Amissah Arthur once told students of the Nalerigu Nursing and Midwifery College in the Northern Region, to disregard promises by the then opposition NPP to restore the allowances, citing that it would not be in the interest of the state.
But prior to the 2016 elections, the then opposition NPP assured students of the various teacher and nursing training institutions of the party's commitment to bring back the allowances, to ensure they had smooth training to serve the country.

Barely a week after assuming office, the Akufo-Addo led NPP administration has given indication of its plan to capture the allowances of both trainee institutions in the Budget which would be presented later in March.

Commenting on the development, Godwin Asabre said the cancellation of the allowance brought untold hardships trainees, but was hopeful the full restoration of the allowance will ease their living conditions in school.

Also speaking on the issue, the Acting President of the Teacher Trainees Association, Jonathan Apam said they welcome the news but not until the move is captured in the first Budget of this government, they'll continue to wait on the government's promises.

"If it's been duly passed by government, then we can have the full assurance that the payment of the allowance is back. But until then we're still waiting on the government to implement what it had said. We're being careful because of the lessons learnt from our Feeding grant in the past year with the previous administration"