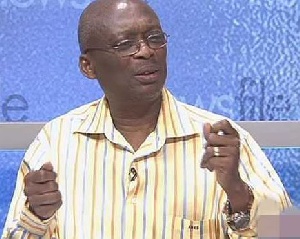 Editor-In-Chief of the New Crusading Guide Newspaper, Abdul Malik Kweku Baako, says he wholeheartedly supported President Akufo-Addo's NPP government when they didn't rush to implement the One District One Factory [1D1F] project.
He confessed it is a good developmental programme but will turn to be worse and not achieve its purpose when rushed.

" . . You will cause financial loss to the state or build a factory which cannot start work when you want to rush with such projects, and so taking time to deliver on that project I was absolutely with them to take time no matter the delay. Let people ridicule you and make all the propaganda analysis but make sure you lay a solid foundation," he stated.

Kweku Baako continued on Peace FM's 'Kokrokoo' programme that the One District One Factory policy he knows for a fact is not a myth.
"As I have already said this 1D1F project is a very serious project that government must be focused on and not listen to agitations . . . it is clearly stated that it will be a private resourced project but monitored by a government person. . . all the same it is happening and not a myth," he said.

He called on journalists to do a validation on the 1D1F as endorsed during the days of former President John Dramani Mahama to value his 200 SHS E-Block flagship programme.

According to him, such strategies will keep politicians on their toes not to take citizens for granted in making campaign promises.