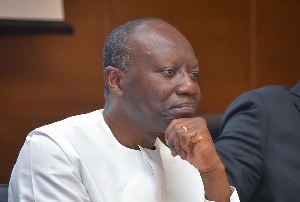 Energy expert Kojo Opoku says the blame for the failure of due diligence to be done over the concession agreement between government and Power Distribution Services (PDS) Ghana Limited must be laid at the doorstep of the Minister of Finance and not any other.
He says it took a Qatari company to alert government of the fraudulent documents tendered in by PDS to win the bid.

No due diligence was done, he stressed on 3FM's Hot Edition on Wednesday.

Government in a statement on Tuesday suspended the whole agreement after it said further due diligence was conducted.

Fundamental and material breaches were detected with the demand guarantees that enabled PDS to manage the assets of the Electricity Company of Ghana (ECG).

Already, Energy Minister John Peter-Amewu has confirmed the suspension of the official behind the "fraudulent documents".

Official behind PDS' 'fraudulent documents' suspended – Energy Minister confirms
But speaking on the issue on Hot Edition, Mr Opoku said no official other than the Minister of Finance should lose his or her job.

He argued that what PDS presented were insurance bonds and not payment securities or demand guarantees, as it should be, and this could have been easily detected by an efficient Finance Minister.

"They have to stop this bickering and lies to Ghanaians," he said about the government's position on the latest outcome.

"It was a company in Qatar that came to inform Ghana that it was fraud.

"If anybody should lose their job, it should be the Finance Minister."

Ghana is set to lose $190 million as a result of the latest development.
Government says "full inquiry" has already been launched into the deal to "inform the next course of action".

Mr Opoku says there should be criminal investigations into the whole deal.