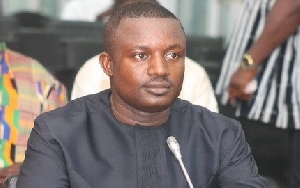 A former deputy minister of power, Mr John Jinapor, has said investigations should be conducted into the alleged destruction of some pylons near the head office of state power transmitter Ghana Grid Company Limited (GRIDCo), which led to power cuts in some part of the country on Monday, 25 March 2019.
Mr Jinapor told Kwabena Prah Jnr (The Don) on Ghana Yensom on Accra 100.5FM on Tuesday, 26 March 2019 that those who committed the act should be arrested and dealt with.

Meanwhile, the Energy Minister, Mr John Peter Amewu, has condemned the destruction of the pylons, describing the perpetrators as "thieves" and "animals".

Mr Amewu, who inspected the destruction in the course of the day, pointed out that there were measures to protect such installations and other strategic national assets. He, however, added that the authorities "cannot be everywhere at every time and some of these thieves, some of these animals in our society will do things just to outwit the security".

In his opinion, the action by the suspects constitutes "a complete sabotage" of the work of the power distributors.
"It baffles my mind how human beings can do this to our motherland and any political party that will have some element of association with such activity does not love being in our country," he told journalists who toured the scene with him.

Mr Amewu said they have detected that all the pylons along that particular stretch have "chemicals placed around them" with the intention to "destroy them in the future".

He revealed that a committee has been tasked to investigate the sabotage and will make sure that the perpetrators are brought to book with the help of officials from the National Security and the Ghana Police Service.