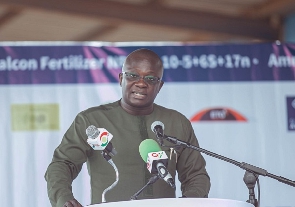 Minister of Food and Agriculture, Bryan Acheampong, has said the second phase of the government's Planting for Food and Jobs (PFJ) initiative is aimed at making the country food self-sufficient within the next five years.
According to him, the initiative will place primary focus on foodstuff that are important to Ghanaian households and that contribute to dietary needs.

Speaking in an interview with Accra-based Citi FM on August 28, the Agric Minister was optimistic that the second phase of the PFJ initiative will transform Ghana's agriculture sector.

"We are going to focus first on the foods that are important to Ghanaians that contribute to our dietary needs. For vegetables, we are looking at onions and tomatoes. For grains, we are looking at maize, soya, rice and sorghum and for plantain tubers and roots, we are looking at plantain itself, cassava, yam and then, we are also focusing on one protein which is poultry and the focus on poultry will be broiler," Bryan Acheampong is quoted by citinewsroom.com.

"We are clear in our mind that with these 10 crops and poultry with the five-year development plan that have developed, we have a new marking scheme that we are setting for ourselves as a country. We should be food self-sufficient in tomato, onion, pepper, rice, maize, cassava, legumes, and yam, plantain. We should in five years be self-sufficient and to be able to export these crops and poultry," the minister added.

Bryan Acheampong furthered that the second phase of the PFJ initiative will focus on agriculture modernisation through the development of a selected commodity value chain along with active private sector participation to make it a success.
MA/NOQ

Ghana's leading digital news platform, GhanaWeb, in conjunction with the Korle-Bu Teaching Hospital, is embarking on an aggressive campaign which is geared towards ensuring that parliament passes comprehensive legislation to guide organ harvesting, organ donation, and organ transplantation in the country.

Watch the latest edition of BizTech and BizHeadlines below:








Click here to start the nomination process for the 2023 GhanaWeb Excellence Awards