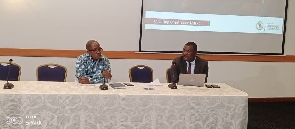 Mon, 20 Nov 2023 Source: African Eye Report
Three-day regional multi-stakeholders forum on the African Continental Free Trade Area (AfCFTA) organised by Third World Network-Africa (TWN-Africa) for Anglophone West Africa is currently underway in Accra.
The forum which brought together civil society organisations, key private sector players, trade unions, women organisations, government officials and policy institutions from the regional economic bloc and key AfCFTA officials discussed challenges and opportunities provided by the AfCFTA.

The forum according to senior officials of TWN-Africa sought to strengthen alliances and networking among and between civil society organisations and other stakeholders in the regions, share information and perspectives on the AfCFTA and fashion out an agenda for future engagement among CSOs and other stakeholders in the two regions.

This is under a joint project by TWN-Africa, Enda Cacid and Southern and Eastern Africa Trade Information and Negotiations Institute (SEATINI) Uganda under the umbrella of the Africa Trade Network (ATN).

In his welcome address, the Coordinator of TWN-Africa, Dr Yao Graham explained that the regional forum was informed by three main factors- the need for an update on the implementation of the Goods Protocol so far in the ECOWAS, an update on protocols that had been concluded and an adopted this year and the outstanding protocols, and the need to enhance alliance building among the various stakeholders in the two regions.

The Director of Trade in Goods and Competition at the AfCFTA Secretariat, Mohamed Ali admitted that although the AfCFTA is one of the innovative ways of transforming Africa's economies and creating the biggest single market in the world, delays in the free movement of persons is affecting the smooth implementation of AfCFTA.

In his words: "If the problems of free movement of persons are not addressed, they would affect the implementation of the Agreement".
Mr Ali of AfCFTA interacting with some of the participants at the Forum

According to him, trades would not take place if people didn't move and therefore called on African governments to work assiduously to cut down the barriers impeding the movement of persons on the continent.

Updating the participants on the AfCFTA, Senior Advisor to the Secretary-General of AfCFTA, Peter Joy Sewornoo said 47 countries had so far signed on the AfCFTA.

While seven countries including Ghana, Kenya and Rwanda were already trading under the AfCFTA's certificates, which allowed them to trade among themselves.

He was quick to add that 30 more countries were in the process of being issued with the AfCFTA's certificates to enable them to trade under the AfCFTA banner.
Source: African Eye Report