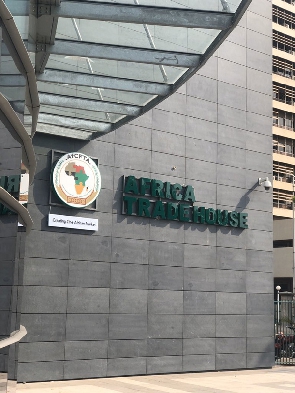 Two key members of Ghana's delegation to the Pan-African Parliament (PAP), Mr. Joseph Osei-Owusu and Mr. Mohammed Mubarak Muntaka, have urged Africans, particularly Ghanaian businessmen and women, to take advantage of the African Continental Free Trade Area (AfCFTA), and patronise the Pan-African Payment and Settlement System (PAPSS) to facilitate the agreement.
This came up when the delegation engaged members of the African Parliamentary Press Network (APPN) on the activities of PAP, in Accra.

One of the functions of the Pan-African Parliament is to facilitate and oversee the implementation of policies, objectives, and programmes of the African Union (AU). The AfCFTA is one of the flagship programmes of the AU, so what is Ghana's delegation to PAP doing to ensure the country benefits from the agreement.

The Leader of Ghana's delegation to PAP,

Mr. Joseph Osei-Owusu recalled that at their last plenary meeting, there was a workshop on the AfCFTA, where members discussed at length how business people in their specific countries could take advantage of the agreement and fully benefit from it.
"If you are not careful, we will glow in the thinking that the headquarters is in our country, therefore naturally opportunities will flow, no. You have to take advantage of the rules and laid-down regulations in order to be able to get the advantages," he said.

It is, however, evident that Ghana's business community has not received enough sensitisation on the AfCFTA. Mr. Osei-Owusu, who is also the First Deputy Speaker of Ghana's Parliament, acknowledged this challenge and assured that his team is ready to lead the advocacy on the AfCFTA.

"This delegation will make it part of our responsibility to lead the advocacy, help the Ministry of Trade, and the Committee on Trade get the needed materials and information, and push them to be talking to those who can take advantage," the Leader told GBC's Rachel Quartey.

Mr. Joseph Osei-Owusu noted that it is important for Ghana to monitor products that are brought in, determine their country of origin, and deepen local entrepreneurship and local production in order to benefit from the agreement.