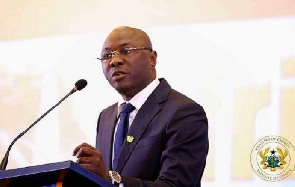 The Minister of State in charge of Finance, Dr. Mohammed Amin Adam, has stated that the approval of Ghana's request for a financial bailout from the International Monetary Fund will open doors for Ghana to re-enter the international capital market.
Ghana has currently been shut out of the international capital market due to its highly unsustainable debt levels.

The Minister noted that the disbursement of the IMF funds will boost investor confidence in the economy.

"We will go back to the market because we will leverage on the IMF deal to balance our financing needs. We have development partners supporting, but a chunk of our inflows will come from the market so with the IMF approval, we are very confident that investor confidence in Ghana will increase. The institutions upgrading us will look favourably to Ghana and then as a result of all these, we could return to market very soon," he was quoted by citinewsroom.com.

He also added that borrowing is inevitable for the economy, but this will also depend on whether Ghana is able to reach sustainable debt levels within the best possible time.

"It depends on how quickly we get to sustainable levels. We are hoping at attaining sustainable levels by 2028. If that is achieved, it's possible. As for borrowing, you can't say you won't borrow. In as much we don't borrow for ourselves so going to the market is a matter of course if the conditions are favourable," Dr. Amin Adam added.
He has disclosed that the International Monetary Fund will likely approve a first tranche of $600 million loan for Ghana by Wednesday, May 17, 2023.

According to him, government expects the IMF Executive Board to approve the credit facility after meeting all pre-conditions and requirements particularly after financing assurances have been granted by official creditors, China and the Paris Club.

"We expect a deal on Wednesday. With the disbursement, there is going to be $600 million as a first tranche just immediately after the approval," he told Reuters via phone.

Dr Amin Adam was however optimistic that the funds will be disbursed into the Bank of Ghana account within a week of the IMF Board's approval.

Watch the latest edition of BizTech and Biz Headlines below:




SSD/MA