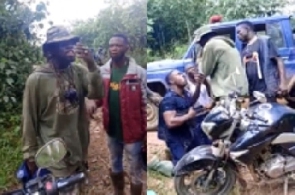 The main suspect in viral video of an attack on a Police Patrol team at Axim in the Western Region, Kwame Ato Asare Ani, says although he is aware the Police are looking for him, he will not turn himself in because they (police) do not speak the truth.
Kwame together with four other friends went viral after he was seen exchanging words with some police officers who later knelt to apologise to him.

Although it is unclear what really transpired, Kwame and his gang reportedly seized the magazine of a Service rifle together with some mobile phones belonging to the Police officers on March 9, 2023.

After the matter was reported by the Axim Divisional Police patrol, four suspects were arrested.

However, Kwame, the main suspect, is on the run.

Kwame Ato Asare Ani stated on Atinka FM's AM Drive with Kaakyire Ofori Ayim that he heard the police say that he was a suspected armed robber but he denies the charge.
According to Kwame, until the police prove that he is an armed robber, he will not turn himself in because he feels anytime a civilian and a police are involved in issues like these, the police always win.

When asked where he was, Kwame replied,"For where I am, I am here with God."

" The reason why I have not turned myself in is that the police said I am an armed robber and they have to provide evidence to that effect . If they are able to do that, I will turn myself in."

On the other hand, the Ghana Police Service in a statement said, "A search conducted at the residence of Kwame Ato Asare Ani, the prime suspect, who is still on the run, led to the retrieval of three (3) pump-action shotguns. Also, one (1) pump-action shotgun, (2) machetes and eight (8) BB refilled cartridges were retrieved from the suspect's unregistered Honda CRV vehicle, Other items retrieved from the suspects include two (2) live refilled BB cartridges and one (1) unregistered motorbike."

Also speaking about this, Kwame said those weapons were bought and registered for him by a Crime Officer.
He explained that he acted as an informant for the police, but they wanted to arrest him at one point because they believed he had collected money from some galamseyers and given it to a Crime Officer instead of them.

According to him, the Police called him to lead them to a particular galamsey site and after showing them where the specific place was, he told them he wanted to get down from their track but they refused to drop him.

After some time on the road, one of his gang members crossed the police with his motorbike to stop them from taking Kwame to wherever they were going to.

Although the police were armed, Kwame said his friend disarmed the police and they also collected the handcuffs from them.

According to Kwame, this prompted the police officers to kneel and beg them to hand over the handcuffs and rifle.